"Imagine, if you will, being on your death-bed… and standing around your bed are the ghosts of the ideas, the abilities, the talents, the gifts, the dreams… given to you by life, that you for whatever reason… you never pursued those dreams, you never did anything with those ideas, you never used those talents, you never used those gifts, you never took advantage of those opportunities… And there they are… standing around your bed, looking at you before you take your last dying breath, looking at you with angry eyes saying, 'We came to you, and only you could have given us life and now we must die with you forever.'" - Dr. Howard Thurman 
Ugh, that is a serious buzz kill way to start the Thursday Thought this week. However, as Steve Jobs said, "Remembering that you are going to die is the best way I know to avoid the trap of thinking you have something to lose." Jobs was right, knowing the sands of time are trickling away should be a huge motivator to do the things we want to do. It took me a while to wake up to this and snap out of the "busyness trap". 

As a father, it took me years to realize how my ambition to provide a great life for my sons, should not come at the expense of spending time with them. So, I found a career that enables me to be present both physically and mentally.
As a husband, it took me years to realize how my ambition to provide a great standard of living for my wife, should not come at the expense of being ships in the night. I spent years working late into the evenings at the expense of spending time with her. So, I don't do that anymore, I make time for us, even if I don't get the work done. If I can't do it between 8-5:30 (then, there is something amiss).
I wasted years working for organizations where I believed I was indispensable. Only to discover they really didn't care that much if I left. So, I did.
In my work, whether it be as an adjunct professor, an author, hosting the innovation show, or as a corporate facilitator, I want to encourage others to live a life with as few regrets as possible.

However, I fully acknowledge how difficult this can be for people and how they can believe that time is on their side. They'll do it next year. But next year rarely comes.
Hyperbolic Discounting
"The future is uncertain but the end is always near."

Jim Morrison
The cognitive bias "hyperbolic discounting" was coined by psychologist Richard Herrnstein in 1961. Herrnstein noticed the people he studied tended to evaluate rewards in proportion not only to their rates and amounts but also in accordance with their immediacy. We have an inclination to choose immediate rewards over rewards that come later in life, even when these immediate rewards are smaller. This is our decision to buy a new car today at the expense of buying an appreciating asset for the future.
This is our decision to delay leaving that unfulfilling career even though we become less attractive on the job market as the years pass by.

This is why we continue to wear those golden handcuffs rather than seek a more joyous role in our work lives.

This is why we do small tasks like answer emails ahead of writing that meaningful report or embarking on that purposeful project.
Hyperbolic discounting is why leaders milk the cash cow today rather than seek new alternatives.

As a former guest on the Innovation Show and co-founder of Innosight, Mark Johnson said, "Business leaders are motivated and rewarded to heat their houses by burning their furniture."

Organizations deal with the next quarterly return, this year's share price, this year's metrics at the expense of the longevity of the organizations they run. Why?

Any mix of incentives, current status and power, and a low appetite for risk all influence their decisions to invest in the future.

In many cases, you cannot blame leaders, they risk a great deal by exploring alternative futures rather than simply managing the present.

Think about this now on a personal level. 

Are we doing the same thing in many aspects of our lives?

We are often so busy with the present, that we short-change our futures.
A mental model or technique I use to prioritize decisions in this context is the Eisenhower Matrix.

I find this useful for my personal decisions, and I also advocate its use on an organizational scale.
The Eisenhower Matrix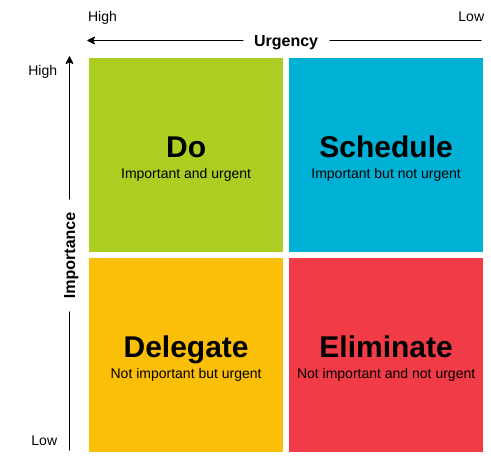 The Eisenhower Matrix is attributed to the 34th President of the United States, Dwight D. Eisenhower. Along the way it has been developed into the four-quadrant matrix you see above. The diagram features two prioritization dimensions: important (vertical axis) and urgent (horizontal axis) and it has four different quadrants: Do, Decide, Delegate and Delete.
This matrix is a fantastic way to prioritize tasks in life and to map strategic (and operational) decisions in organisations.
Quadrant 1: Do now (Urgent and Important).
These are items that cannot wait, they should be your mission-critical tasks each day. However, we often fill this quadrant with the mundane: the meaningless meeting, the pointless project and the trivial task. Tasks from quadrants 3 and 4 sneak in here all the time.

Quadrant 2: Schedule (Important, but Not Urgent).
The tasks in this quadrant are important as they bring you closer to your goals. Most of our time and energy should be spent in quadrants 1 and 2 because they provide lasting happiness, fulfillment, and success. However, because they lack immediacy or a deadline, they continually get deferred, if done at all.
Quadrant 3: Delegate (Urgent, but Not Important).
The work in this quadrant is urgent but has no immediate impact on the business or personal success. As a leader, tasks here should be delegated, but many of us like doing these tasks because they are how we got to where we are in the first place. The tasks here make us feel like we are making progress, but we waste our time and energy here, often when we don't need to.
Quadrant 4: Delete (Not Important and Not Urgent).
This is work you should not be doing at all. This is going to meetings without an agenda. This is reading an irrelevant report. This is doing admin that you should not be doing. Don't waste your time and don't waste your life.
Now you understand the matrix, I suggest you consider it in two modes:
Mode 1: How "You Would Like to" Prioritise Activity
As an organization, map your strategic actions on the Eisenhower Matrix. In doing so, you will uncover a paradox. The projects that are meaningful are the ones you never have time to pursue. They belong in the top right quadrant, they are important, but not urgent.
Even though, these activities are important, here is the dilemma, you can get by by ignoring them or just paying lip service to them. Maybe you can hire a head of Innovation and they can pursue sheep dip innovation activities? Then the board will assume activity and you can get by and continue to get rewarded on quadrant 1 activity?
But, maybe you want to pursue these projects, but you are held prisoner by the next quarter, the next earnings call?
It ain't easy to find the time.
Mode 2: How "You Actually" Prioritise Activity
Track your activity over a week.
Pay attention to the quadrant that takes most of your time.
Now, do if you are still with me, do this on a personal level.
Think, where do you spend your time?
Now think, where would you like to be in 5, 10, 15 years?
Now calculate, using this formula:
Where you spend time minus where you would like to be in 5,10,15 years = Your Level of Regret or disappointment in 5,10,15 years.)
Finally, consider the words of Virgil,
THANKS FOR READING