"Without changing the structure of your organisation, I would argue that [innovation] will not work." –

John Chambers (former CEO of Cisco)
Many of us feel the bodily repercussions of middle age with joint pain, scar tissue and stiff muscles. While we mostly forget what led to these issues, our bodies keep the score. About two years ago, I embarked on a journey of physical reinvention. It strikes me how much this experience mirrors the formidable task of organisational transformation. To elaborate, I use the analogy of two supplements: serrapeptase to break down existing structures and collagen to rebuild them anew.
Subversive Serrapeptase: Breaking Down the Old
The silkworm is the caterpillar of a silk moth. When a silkworm is ready to emerge from its cocoon, it releases an enzyme called serrapeptase. This enzyme dissolves the fibres of the cocoon so it can emerge. In the 1960s, researchers experimented with this proteolytic enzyme for human use. The pancreas makes proteolytic enzymes, like serrapeptase, to synthesise protein into amino acids for growth and tissue repair. Just as serrapeptase breaks down the fibres of the cocoon, in humans, it can thin blood clots, dissolve fibrous tissue, and degrade cysts. I have found it beneficial in dissolving scar tissue and stubborn muscle fibres from old injuries.
Serrapeptase serves as a fitting metaphor for the initial stage of organisational change. This phase involves dismantling existing structures, processes, and mindsets that often inhibit regeneration.
Like serrapeptase selectively locates and degrades unwanted proteins, organisations must identify the barriers that impede growth and efficiency. This could involve outdated processes, resistance to change, siloed divisions and those in positions of power based on the current configuration.
Just as some proteins may resist degradation, individuals within the organisation will undoubtedly resist change. Effective change management strategies are crucial to address inevitable resistance. As serrapeptase seeks out and dissolves fibrous mounds, change makers (serrapeptase sentinels) will detect organisational cysts and corporate clots. Leadership must lead the charge in this delicate phase of any transformation.
One Caveat
When I started taking serrapeptase, I experienced my first hernia. It happened while tying my shoelace. The site of the hernia was where I had cracked a rib years ago playing rugby. In this case, while the serrapeptase pinpointed and broke down that scar tissue, that same scar tissue still served a purpose – at least in the short term. This made me reflect on how dual transformation does not mean a mass dismissal of the existing people in a legacy organisation. Many will continue to play an essential role in enabling the new future. Their industry know-how, contacts, organisational knowledge or specific skills are all important. It is their willingness to change that ultimately decides their fate.
Catalysing Collagen – Rebuilding the New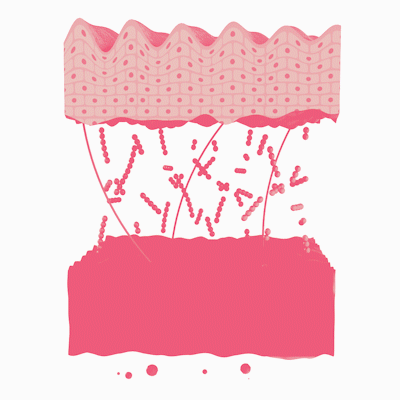 Collagen is the glue that holds the body together, providing structure and support to skin, muscles and bones. Produced in our bodies, specifically fibroblasts (connective tissue cells), this vital protein promotes growth and regeneration. By our mid-twenties, our bodily supply of collagen reduces by about 1.5% each year. By the age of 45, we have lost over 50% of our collagen stores. This degradation of collagen results in the deterioration of our skin, joints, bones, muscle and eyesight.
For my physical regeneration, I take collagen in tandem with serrapeptase. I support this supplementation with weight training to regenerate and reshape muscles, ligaments and fascia (the thin casing of connective tissue surrounding and holding every organ, blood vessel, bone, nerve fibre and muscle in place.) Furthermore, just like an organisation has to adopt a new mindset, I adapted my diet to support future resilience.
In this week's Thursday Thought, "Catalysing Collagen" represents another phase of organisational transformation. While breaking down the old, there is a concurrent focus on fortifying the future. Like my body, the corporate body has also aged; the old body will serve the new reality.
Collagen serves as the framework for building and repairing tissues. Similarly, organizations need a clear vision and strategy that aligns with the new direction. This involves defining goals, outlining the path forward, and establishing a roadmap for implementation.
Collagen provides strength and elasticity to tissues. In organisational change, empowering employees fosters engagement, enhances productivity, and drives innovation. This may involve providing training opportunities, encouraging autonomy, and recognizing individual contributions.
Just as collagen promotes the growth and connectivity of cells, organizations should nurture an environment that values collaboration, open communication, and continuous learning, enabling teams to adapt and thrive in the face of change.
Organizational change is a complex and dynamic process that requires a systematic approach. Any renewal process is a dual transformation, interlacing the creation of the new with the reinvention of the old.
Thanks for Reading.
With this idea of recalibration, check out the latest episode of The Innovation Show with Marty Cagan. We focus on his book "Empowered". In a wide-ranging discussion, Marty shares how shifting to a product-centric company involves dissolving past structures and mindsets.
The winner of Marty's book is Ayda E, Ayda. I will drop you a line.
Later today, we will release: "Strategy Beyond the Hockey Stick" with Sven Smit. We have a copy up for grabs. Drop us a line to put you in the hat to win, or if you are signed up for our Substack, we will automatically put you in the hat. As a paid subscriber, you will treble your chances to win and receive show notes and additional audio excerpts.