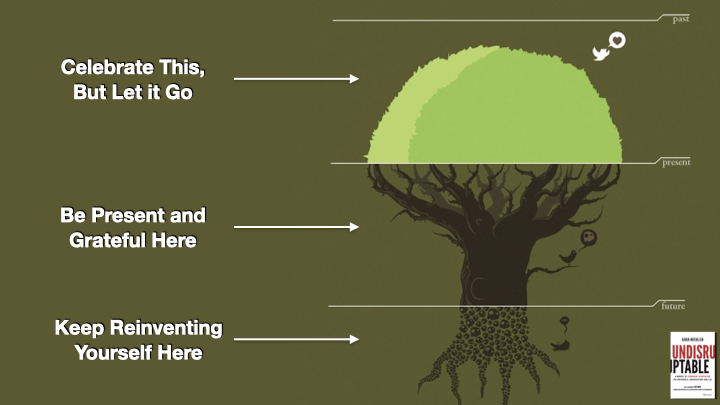 "Time present and time past
Are both perhaps present in time future
And time future contained in time past.
If all time is eternally present
All time is unredeemable." 

Burnt Norton by T.S. Eliot
This excerpt from T.S. Eliot's "Burnt Norton" reminded me of a movie I once watched, where a ghostly presence visited a girl throughout her life. The entity appeared every time the girl experienced trauma. My interpretation is that the presence was her future self coming to support the girl whenever she needed help. I have since discovered that this is a meditative practice. Throughout the meditation, you send love and support to your inner child, thus supporting yourself during difficult times. Doing so can positively impact one's present, and a more positive present can lead to a more joyful future.
Some people, including eminent scientists, believe that time (or the flow of time) is a human construct. For example, the physicist Max Tegmark says, "We have the illusion, at any given moment, that the past already happened and the future doesn't yet exist, and things are changing. But all I'm ever aware of is my brain state right now. The only reason I feel like I have a past is that my brain contains memories." Essentially, our existence is happening all at once. All that truly matters is the present, and our past can positively impact that present. Likewise, our recollection of the past can also impact our present. I see this in nature; for example, take the hydrangeas in my front garden. Without fail, someone quips how they are past their best each winter, and I should throw them in the compost heap. As you will see, this applies to the business world also.
Many gardeners make the mistake of thinking hydrangeas are "spent" in the winter. However, their withered, lifeless blooms betray their cycle of renewal. Like many organisms, hydrangeas need time to regenerate before a new season of growth.
Savvy gardeners can lend a hand to their plants by deadheading. This is the process of removing withered blooms which enables the plant to divert energy to other parts of the plant rather than squandering energy on the spent blooms. There is a crucial caveat to deadheading. You can't remove the withered head too early. While the bloom may appear unsightly, it continues to serve a significant purpose, protecting the emerging green shoots. Removing a withered flower in the depth of winter can be devastating.
Even after spent blooms fall to the earth, they continue to benefit the plant. Fallen blooms, decaying leaves, fruits and twigs enrich the soil by fertilising the soil, thus providing nutrients for the roots to absorb. In addition, as the fallen blooms decompose, they encourage beneficial bacteria and fungi, which form part of the plant's root ecosystem. To an unknowing eye, these plants are dead, but to a knowledgeable gardener, the plant is regenerating, and the roots are riotous.
The process of deadheading and hibernation provide beautiful metaphors for renewal on an organisational and personal level. On the one hand, the old bloom plays a noble role in enabling the new bud. But, on the other hand, an untrained observer might mistakenly extinguish nascent development before it flourishes.
Just like an organisation or an individual stuck in a specific role, it is natural for the hydrangea to reach a point of optimal growth and begin to decline. Clinging to the deadhead for too long impedes new growth. Just as the hydrangea benefits from the deadheading provided by gardeners, sometimes, we, too, need a nudge to relinquish an old mental model and embrace a new way forward. For hydrangeas, this is the pruning done by a gardener. For individuals, this might be the loss of a job due to organisational pruning. For an organisation, the impetus for change may come from a startup, a recession, a war, a pandemic, inflation or a declining market. This decline is inescapable, so we should accept it, but reframing that decline precedes renewal helps us accept the inevitable.
The Messy Middle
When the hydrangea is in the intermediary state, betwixt the old and the new, it is at its most vulnerable. Peter Drucker best recognised this vulnerability in organisational change when he wrote, "The New always looks so small, so puny, so unpromising next to the size and performance of maturity." Just as an unknowing observer might discard a burgeoning bud by comparing it to its former bloom, many organisational leaders scrap promising projects prematurely. Despite all the talk about moving fast and breaking things, transformation takes time to gestate, and so much potential dies on the vine. That is a great paradox of this work and is why perspective is so important.
In legacy organisations, business leaders must provide air cover for the emergent models just like the older bloom provides protective cover for emerging buds. In the early days, new buds often fall prey to predators in the form of "guardians of the status quo". Many of these are established business leaders who are (from their perspective) practising "Good Management" and avoiding anything that pulls the established business off-course. As a result, many emerging buds receive limited resources, protection, budget or runway and never see their springtime.
A Budding New You
The hydrangea metaphor works for individual regeneration too. Think of those times when you decided to take a bold step in your life or career. Those times you choose to develop a new habit or lose an old one, change college courses, start a business or change careers. In doing this, you are doing what is natural; we are designed to evolve, progress, and change. But strange things happen when we cast off spent blooms.
Most likely, you get stricken by fear of "What if it doesn't work" or "What will others think". The next thing that often happens is very hurtful but predictable. The people whom you think you can count on to support your renewal are often the very people who try to hold you back. They discourage you. They dismiss your idea. And boy, does it hurt. Why is this? Sometimes, your decision to change can expose their indecision and inaction, and instead of giving you the encouragement you need, they hold you back. Change is one of the hardest things for us to do. Just like the budding business needs protection from organisational predators, the emergent you needs support from like-minded people. We must avoid the people who cannot see what we often feel, that our bloom is spent. New business models require leaders to provide air cover, and we must surround ourselves with people who see and support our potential, waiting to burst forth.
When you change your perspective of time and see it as non-linear, it helps you realise that a step backwards is a natural part of renewal. When you perceive time as non-linear, it enables you to reinvent, renew and regenerate safely in the knowledge that your old bloom and your new bud co-exist, each supporting your magnificent present.
"The past, present and future are not three different places; they are a single happening, here and now. When you live this moment profoundly, you experience time not serially but simultaneously, not as three, but as one. You then wake up to the fact that mystics have known since the dawn of time that this moment is eternity."— Sadhguru.
THANKS FOR READING